The first place that many people go to when looking for images, be it photographs or illustrations is Google.
This is a great resource for reference purposes or if you're gathering inspiration but do not use them in any of your projects, especially if your project is going to be displayed to the public as you will more than likely be infringing copyright. Most free images have conditions of use associated with them and it's particularly difficult and time consuming to check with Google images. Instead look for websites which are dedicated image libraries.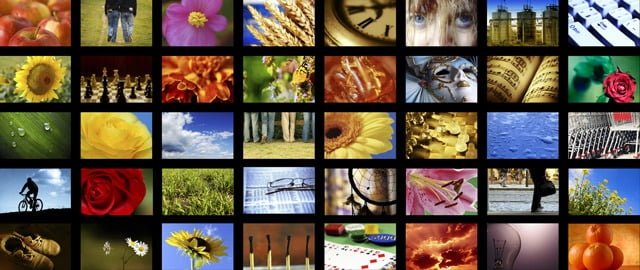 What are the different types of licenses?
Nearly all images fall into one of three license types – free to use, royalty free and rights managed.
Free to use
The popular photo sharing website flikr has thousands of free photos offered under a creative commons license (creativecommons.org). There are four variations of license available and to make life easier you can search for images under each variation. Briefly the four variations are:
ATTRIBUTION

you can distribute, change the image and use it in your commercial and non commercial projects as long as you credit the owner.
NONCOMMERCIAL

the same as 'Attribution' but you can only use it for non commercial projects.
NO DERIVATIVES

the same as 'Attribution' but you can't change the appearance of the image in any way. You use it as it was supplied scaled to the size you need.
SHAREALIKE

the same as 'Attribution' but you must offer the work you have created using the image under the same license terms.
Images can have one or a combination of all four variations applied to it.
There are a number of image libraries offering free downloads and each of them will have slightly different conditions of use so do check first. In general you may be asked to credit the site and have the following restrictions applied:
only be used on print runs up to 10,000 copies
not be used on any items designed for resale
cannot use exclusively or sell the rights
not make available for download on a website
not use the original unedited image larger than 800 pixels on a website
not use for sensitive topics such as mental or physical health issues, social issues, sexual activity, sexual orientation or related, substance abuse, crime or other subjects that can be considered to be offensive or unflattering to any of the models included in the image.
Royalty free
Images with a royalty free license are – on the whole – a better quality than those offered for free. You'll pay a single fee which allows you to use them as often as you wish within the restrictions of the license and you don't usually have to credit the image. The same restrictions apply as for the free images listed above with the exception of increased usage on print runs up to 500,000 copies. The majority of libraries will offer an extended license which allows you to use the image on items designed for resale. This could be digital items like web templates, screensavers, e-cards, powerpoint presentations or as wallpapers on cell phones. Physical items would be t-shirts, postcards, greeting cards, mugs, mousepads, posters, calendars, framed artwork to around 10,000 copies.
Rights managed
Some libraries offer their very best images through a rights managed license. The cost of using these images are calculated based on a number of specific factors which often include:
The creative area where the image will be used (eg. Website/app, advertising, marketing/promotional, publishing/editorial, film/TV, internal or retail).
The format within the creative area (eg. Social media platform, brochure, greeting card, newspaper advert, music video, wall display or product package).
The size it's used in proportion to the media (eg. 1/4 page, 1/2 page or full page)
The placement (eg. Front cover, back cover or inside pages)
The circulation – The number of copies printed or online hits.
The duration – how many months/years  will the image be displayed in your project.
The territory – the countries where your project will be displayed.
The industry (eg. Agriculture, pharmaceuticals, leisure or transport).
Editorial use only
Celebrities are paid thousands and in some cases millions of pounds  by companies to endorse their products. Likewise, large companies invest substantial amounts to protect their brands including who is associated with them. Which is why good libraries will label images featuring celebrities or trademarks as being for editorial use only. If you're writing an article about a celebrities latest performance or reviewing a product brand it's perfectly fine to use their image to accompany your story. Just do not use their image when writing about your service or product without written permission.
Model and property releases
If you want to use an image to promote a product and it has a person on it you must find out if it has a model release. If it hasn't or it's not clear, choose another image. For some buildings and landmarks you even need a property release. If in doubt, please check.
Scanning for unauthorised usages
Rights holders send copies of their libraries to specialised companies who use advanced image recognition technology to scan the web for sites where their images have been used. If there is no license a solicitor will look to claim the fee along with a penalty fine which can be around 10 times the cost of the original license.
Even if you only used an image on a short run of printed leaflets or a blog for a small club, you still need to make sure you have the rights to use it.
The easiest solution is to commission Good Impressions to create your project for you. We have an ever growing library of over 20 million images which are free to use on projects we design. And should you require very specific imagery we can negotiate great deals with rights managed images or organise a complete photo shoot.